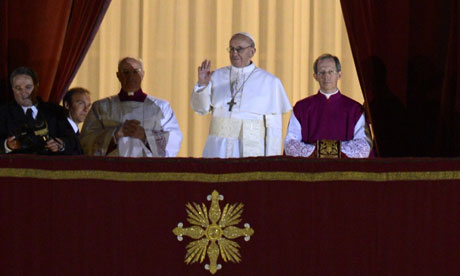 Francis I is the new pope, and I am glad he is American.
1) with all the discussion about him, I have not heard that he may have chosen his name to honor the great Jesuit Francis Xavier;
2) there was a Latin term "popa" in use in antiquity which referred to a type of priest in charge of sacrifice in Rome; maybe we should say "habemus popam" and popa is the source of the word Pope?
3) there is considerable mud slinging about his actions or inactions during the Argentinian dictatorship. Francis seems to have been more intimate with the situation than I, so I will have to allow him all slack on it. Francis also seems to have condemned violence on the left from the rebels along with violence from the right, indicating a very complex mess of torture and violence into which I would tred very cautiously.
Personally, I believe that anyone in the USA that supported the War in Iraq should be disbarred from public office and have their voting rights cancelled, but it does not work that way.
--