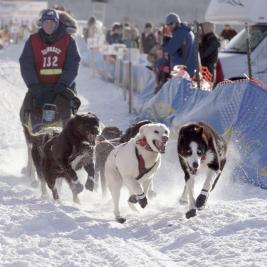 From Minnesota Public Radio, Race information as well and intimations of Climate Change:
http://minnesota.publicradio.org/display/web/2013/01/15/regional/beargrease-sled-dog-race-postponed
DULUTH, Minn. (AP) — Poor snow conditions have forced organizers to postpone the John Beargrease Sled Dog Marathon in northeastern Minnesota.
The race had been scheduled to start Jan. 27. It's now postponed until March 10.
Race coordinator Pat Olson tells the Duluth News Tribune that the trail is "terrible."
Olson says organizers are hoping for snow by March 10. If it doesn't snow, the race could face only its third cancellation ever. A lack of snow caused the Beargrease board of directors to cancel last year's races. It also was canceled in 2007.
and some background from 2011 (when the race was run):
http://indiancountrytodaymedianetwork.com/2011/02/09/legend-ojibwe-john-beargrease-and-annual-sled-dog-marathon-bears-his-name-13872
When one of the longest and most-respected dogsled races in the lower 48 was run January 30 through February 2, it included a tribute to the Ojibwe man for whom it is named. The 390-mile John Beargrease Sled Dog Marathon honors the mail-carrier who braved appalling weather and questionable trails to deliver mail at the turn of the 20th century, traveling by dog team or by boat the 90 miles between Two Harbors and Grand Marais along the sometimes treacherous shoreline of Lake Superior.